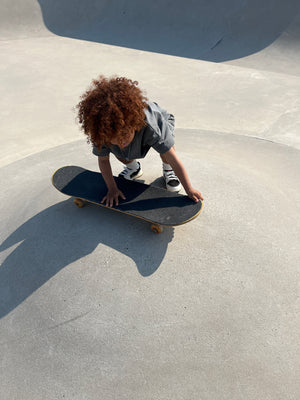 LUXURY STREETWEAR FOR KIDZ
Cool and comfy streetwear for kids all around the world
house of basicz
House of Basicz is the brand with the cool basics every kid needs. It has the perfect balance between good quality and a good price … Because we all know that the most memorable days usually end with the dirtiest clothes.
THE BIKER JACKET
Exclusive item
THIS FAUX LEATHER JACKET GOT AN OVERSIZED BOXY FIT, GIVING IT A VINTAGE LOOK. IT'S MADE FROM THICK FABRIC WITH A LOT OF DETAILS SO IT FEELS LUXURY! A BIKERJACKET IS THE BASIC ESSENTIAL THAT GOES WITH EVERY OUTFIT.
As a mom, who loves earth tones and a minimalistic style, I kept having trouble finding basics. The search ended with me designing my kids own clothing line. House of Basicz was born.